Require a Top-notch Stacking Solution for Managing Diverse Pallet Types?
Look no further than our straddle stacker offerings. Boasting up to a robust 4400 Lbs load capacity and equipped with straddle support arms, our models are meticulously crafted to empower operators to seamlessly tackle their tasks while ensuring their utmost personal safety and their surroundings.
Crafted meticulously, our electric straddle stackers seamlessly integrate the adaptability of a forklift, the reach of a reach truck, and the convenience of a walkie stacker.
These exceptional capabilities are further augmented by the inclusion of SIDE-SHIFTING technology.
Details of one our models: (Inquire for more details about our other models or your requirements)
Got questions or need help choosing, call us on: (281) 766-9480
Model: EB16EAS-189Li
Load capacity (lb): 4400
The max. lifting height (in): 189
Load center distance (in): 23.62
Free Lift (in): 51.85
EPS (Elec. Power Steer): Yes
Fork length (in): 45.28
SIDE-SHIFT (in): 4.7
Overall fork width (in): 8.27-31.5
Lowered fork height (in): 1.57
Fixed leg length (in): 42
Adjustable legs (in): 38.06-51.81
Turning radius (in): 68.5
Overall length (in): 83.26
Max width (in): 46.93-60.71
Extended mast height (in): 227
Lowered mast height (in): 88.86
Battery voltage (V/Ah): 24/150
Charger (V/A): 24V/30A
Lifting Motor (kW): 3
AC Driving Motor (kW): 1.5
Service Weight (lb): 3520
Whether it's the chore of loading or unloading trucks, the precision demanded at loading docks, the efficiency required in stock rooms, the demands of bustling manufacturing floors, or the intricacies of warehousing, our stackers stand as the epitome of functionality.
Precision-engineered using high-grade steel and components, bolstered by robust quality drives, these stackers are primed to endure the rigors of any terrain, usage intensity, impact, and directional changes.
With this level of steadfastness, they are tailored to excel across a myriad of applications, all while instilling confidence and assurance.
Financing Available
Don't Let Budget Constraints Hold You Back!
Take advantage of our straddle stacker financing packages – Discover how our financing options can propel your operations forward. Our dedicated team is ready to assist you with expert advice and personalized solutions.
Competitive Interest Rates
Quick Approval Process
Flexible Terms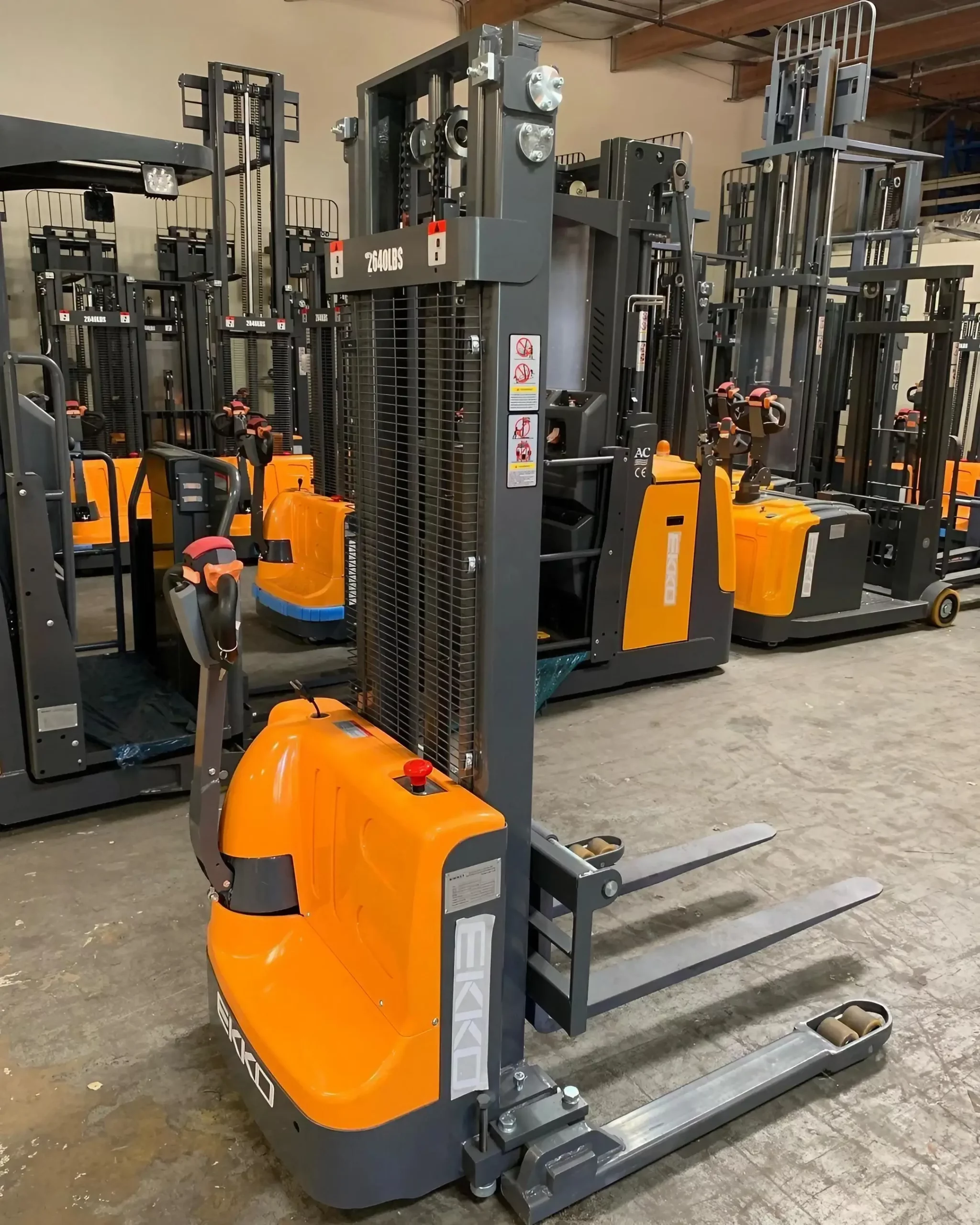 Why Buy from Integral Lift?
When it comes to investing in a crucial component of your material handling operations, the decision is not one to be taken lightly.
At Integral Lift we understand the significance of choosing the right equipment that aligns seamlessly with your business's unique material handling requirements.
1: Uncompromising Quality and Durability:
Our straddle stackers are manufactured using the finest materials and cutting-edge engineering techniques.
The result? Machines that not only meet industry standards, but surpass them.
With a focus on durability and longevity our stackers are designed to weather the rigors of challenging environments, ensuring your investment delivers returns for years to come.
2. Tailored Solutions for Every Application:
Every business has its own unique needs and quirks. That's why our lineup of straddle stackers are ready to handle all kinds of load sizes, lifting heights and even comes with customizable features.
Whether you're maneuvering through tight spaces, tackling heavy loads, or seeking enhanced visibility, we have a stacker that aligns with your specific requirements.
3. Proven Track Record and Customer-Centric Approach:
Integral Lift has earned its reputation as a trusted partner in the material handling industry. With a proven track record of excellence and a portfolio of satisfied clients we take pride in delivering on our promises.
Your journey with us doesn't end with a purchase – it marks the beginning of a lasting partnership.