Unleash Efficiency with Counterbalanced Stackers: Elevate Your Operations
Imagine effortlessly navigating your workspace, moving loads with finesse, and making every minute count.
With our counterbalanced stackers you're not just investing in equipment…you're investing in a game-changing tool that adapts to your needs.
Details of one our models: (Inquire for more details about our other models or your requirements)
Got questions or need help choosing, call us on: (281) 766-9480
Model: EK13S-177
Drive type: Electric
Type of operation: Walkie type
Load Capacity (LBS): 2860
Load Centre (Inch): 23.6
Distance between fork backrest and front wheel (Inch): 5.91
Wheelbase (Inch): 46.81
Service Weight (with battery) LBS: 4070
Tire material: PU
Driving wheel size Φ×w (Inch): Φ9.84×2.95
Bearing wheel size Φ×w (Inch): Φ9.84×4.72
No of Driving wheel, Balance wheel/Bearing wheel (X=Driving wheel): 2/1X
Front wheelbase (Inch): 34.09
Rear wheelbase (Inch): 0
Mast/fork carriage tilt, forward/backward: 2/5
Lowered mast height (Inch): 78.74
Free lift height (Inch): 59.84
Lift height (Inch): 177.17
Extended mast height (Inch): 214.53
Height of seat/stand-on platform (mm): 5
The height of handle in the operation position (Inch): 43.5/56.69
Overall Length (Inch): 107.8
Body Length (Inch): 62.52
Overall Width (Inch): 39.29
Fork Size (Inch): 1.38/3.94/45.28
Fork Width (Inch): 8.66-28.35
Ground clearance under mast (Inch): 3.54
Min Ground clearance (Inch): 3.39
Aisle width for pallets 1000*1200 crossways (Inch): 115.95
Aisle width for pallets 800*1200 lengthways (Inch): 120.28
Turning Radius (Inch): 56.89
Driving Speed, load/unload (km/h): 5.2/5.5
Lifting Speed load/unload (mm/s): 100/120
Lowered Speed load/unload (mm/s): 136/120
Maximum gradeability load/unload (%): 6/8
Brake Type: Electromagnetic brake
Drive Motor (kW): 2.5
Lift Motor (kW): 2.5
Battery voltage/rate capacity (V/Ah): 24/210
Battery Weight (±5%) (lbs): 460
Type of drive control: AC
Noise level (dB(A)): 70
Steering type: EPS
Why Choose Counterbalanced Stackers from Integral Lift?
Our stackers are not just machines, they're your partners in tackling the challenges of bustling warehouses and demanding work environments.
Crafted with highly quality materials and precision engineering they stand the test of time and excel where others fall short.
Maneuverability is key, and our stackers deliver. Effortlessly navigate narrow aisles and tight corners, thanks to a design that prioritizes control and ease of use. Your operations become a symphony of efficiency, orchestrated by you.
Your peace of mind matters. Our stackers come with advanced safety features, keeping operators and surroundings secure. It's not just about productivity, it's about your team's wellbeing.
Financing Available
Don't Let Budget Constraints Hold You Back!
Take advantage of our counterbalanced stacker financing packages – Discover how our financing options can propel your operations forward. Our dedicated team is ready to assist you with expert advice and personalized solutions.
Competitive Interest Rates
Quick Approval Process
Flexible Terms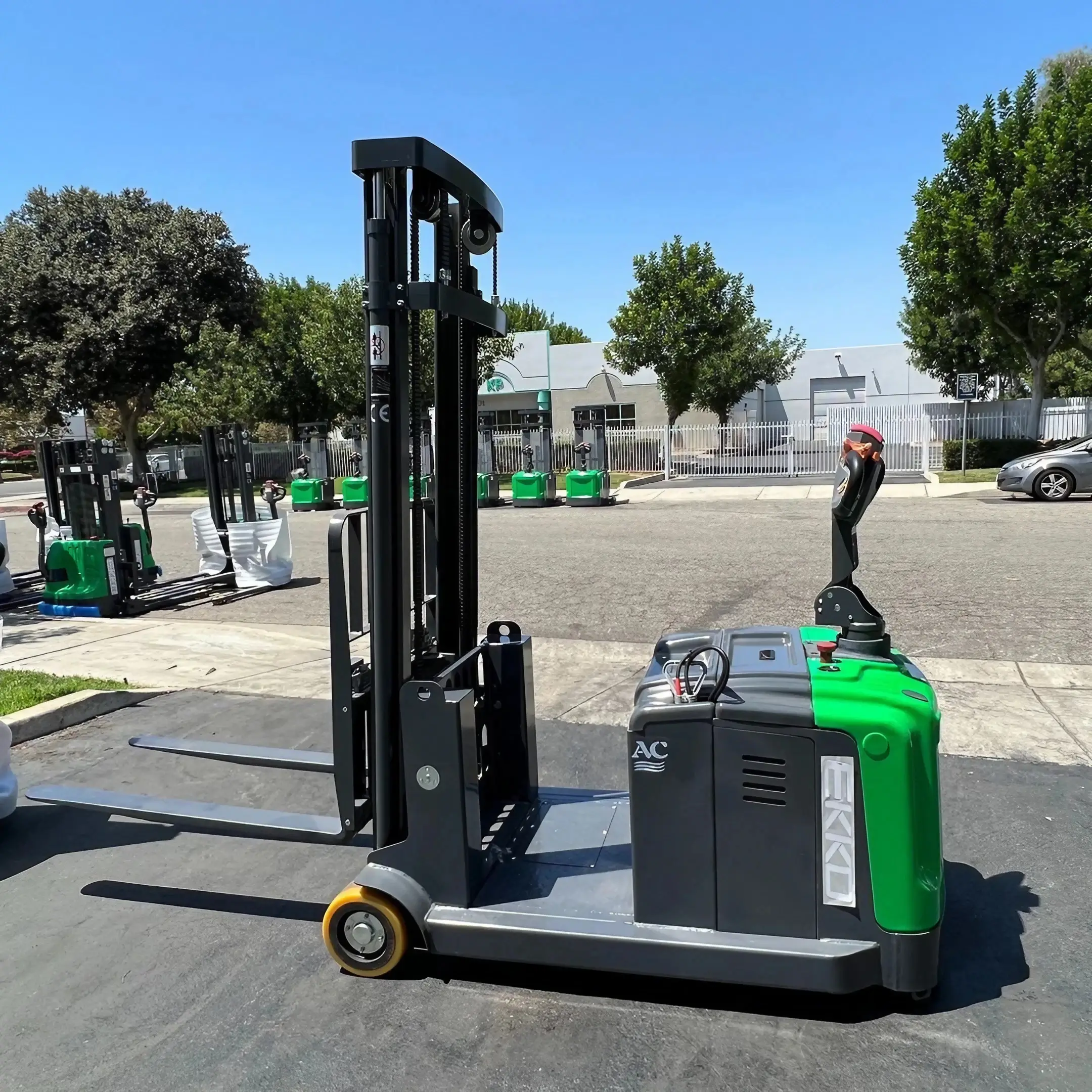 Why Buy from Integral Lift?
When it comes to investing in a crucial component of your material handling operations, the decision is not one to be taken lightly.
At Integral Lift we understand the significance of choosing the right equipment that aligns seamlessly with your business's unique material handling requirements.
1. Unparalleled Quality and Endurance:
When it comes to our counterbalanced stackers, quality and durability are non-negotiable.
We use only the finest materials and cutting-edge engineering techniques in the construction of our stackers.
At Integral Lift we are confident that our stackers will surpass your expectations.
2. Integral Lift is Your Partner in Progress:
Whether it's in a bustling warehouse, a dynamic production line, or any environment that demands precision, our counterbalanced stackers rise to the occasion. They're more than equipment, they're the keys to unlocking heightened efficiency and smoother operations.
Join the league of successful businesses that have harnessed the potential of our stackers. Revolutionize your workflow today and experience a new era of productivity.
Contact us today on (281) 766-9480 to explore how our counterbalanced stackers can seamlessly integrate into your workspace.
Start optimizing your operations – because every move counts.