Elevate Your Material Handling:
Discover Unmatched Efficiency Today!
With the choices available in Integral Lift's reach truck inventory, you can expect a higher increase in efficiency from your operators and trucks, which results in notable savings in servicing, repair, and energy costs.
Reach trucks also commonly referred to as "reach forklifts" or "reach stackers." is the type of equipment that belongs to the group of most sought-after equipment for warehouse material handling operations.
The unique feature of reach forklift trucks lies in their forward-moving mast, combined with a narrow chassis, making them ideal for pallet storage and retrieval in narrow aisles.
Why Choose Reach Trucks from Integral Lift
Exceptional Maneuverability: Designed to navigate narrow aisles and tight spaces with ease, optimizing warehouse space and maximizing storage capacity.
Increased Lift Heights: These machines offer impressive lifting heights, allowing you to efficiently stack and retrieve materials from higher racks, utilizing vertical space effectively.
Operator Comfort: Our reach trucks prioritize operator comfort with adjustable seats, ergonomic controls, and spacious cabins, ensuring prolonged usage without compromising productivity.
Enhanced Productivity: Thanks to their advanced lifting capabilities and quick acceleration, our reach trucks enable faster material handling, reducing loading/unloading times and boosting overall productivity.
Precision Control: Equipped with precise controls, making it easy for operators to handle delicate or fragile materials with minimal risk of damage.
Battery Efficiency: With the latest battery technologies, our reach trucks deliver prolonged operation hours, minimizing downtime and increasing throughput.
Safety Features: Equipped with numerous safety features, including stability systems, anti-slip surfaces, and visibility aids, ensuring a secure working environment for both operators and pedestrians.
Low Maintenance Costs: Built to last, requiring minimal maintenance and reducing operational expenses in the long run.
Versatility: Capable of handling a wide range of materials, making them suitable for various industries, from warehousing to manufacturing and distribution.
Financing Available
Don't Let Budget Constraints Hold You Back!
Take advantage of our reach truck financing packages – Discover how our financing options can propel your operations forward. Our dedicated team is ready to assist you with expert advice and personalized solutions.
Competitive Interest Rates
Quick Approval Process
Flexible Terms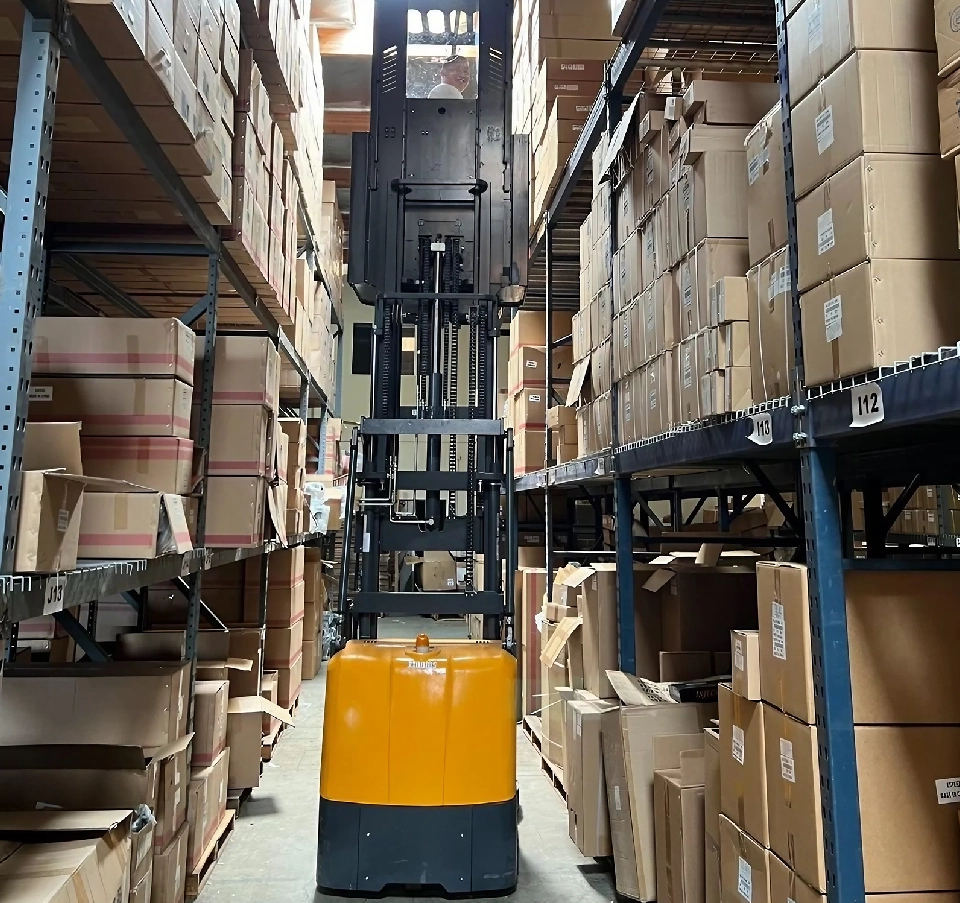 Heavy-Duty Reach Trucks for Warehouses
To maximize choice and provide an ideal solution for any specific warehouse application, we offer a variety of reach truck ranges – connect with us today on (281) 766-9480 and we can present you a solution for optimizing your warehouse productivity and streamlining your material handling processes.
Unmatched Performance and Strength
Designed to tackle the most demanding warehouse environments, our reach stackers boast exceptional lifting capacities and rugged build quality. They can effortlessly lift and transport heavy loads, allowing you to maximize storage space and stack materials efficiently even at great heights.
Unlock the Potential of Your Warehouse – Space Optimization and Maneuverability
Navigating through narrow aisles and confined spaces is a breeze with our reach forklifts.
Their compact yet robust design ensures seamless maneuverability, enabling your operators to access every corner of the warehouse without compromising on safety or efficiency.
Contact Integral Lift now on (281) 766-9480 and let our experts assist you in finding the perfect reach truck that meets all your warehouse operations requirements.